Introduction
Hazard Analysis and Critical Control Point (HACCP) was developed in the 1960s in the United States to ensure food safety for the first manned National Aeronautics and Space Administration space missions (NASA).
The United Nations Codex Alimentarius Commission Food Hygiene standard embraced HACCP as an internationally accepted method for ensuring food safety by identifying hazards and monitoring their Critical Control Points in the process. (1990)
Codex Document on HACCP principles and application (1997)
FAO/WHO develop HACCP guidelines.
EC 852/2004 requirement for all food businesses to adopt HACCP principles in EU.


---
The need for an effective food safety assurance method
Foodborne disease are a widespread public health problem
Emergence of foodborne disease
Increased knowledge and awareness of the serious and chronic health effects
New food technologies and processing methods
Increased awareness of the economic consequences of foodborne disease


---
Terminologies
Quality-its conformity to a given level of excellence which represent particular standard or specification with minimum cost to the producer and believed to be the satisfactory with consumer in general.
HACCP – a system which identifies, evaluates, and controls hazards which are significant for food safety.
Hazard – a biological, chemical or physical agent in, or condition of, food with the potential to cause an adverse health effect.
Food hygiene – all conditions and measures necessary to ensure the safety and suitability of food at all stages of the food chain.
Contaminant – any biological or chemical agent, foreign matter, or other substances not intentionally added to food which may compromise food safety or suitability.


---
Types of Hazard
Biological – Primarily concern with the pathogenic bacteria such as salmonella, staphylococcus aureus, campylobacter jujeni, clostridium perfringens, clostridium botulinm.
Chemical – Toxic substances or compounds that may be unsafe for consumption i.e. cleaners ,sanitizers, pesticides, insecticides, rodenticides , lubricants, paints etc
Physical – foreign objectives which may injures the consumer i.e. stones, wood, metals, glass, mud, plastics, blades etc.


---
Principles of HACCP
Principle 1.
Conduct a Hazard Analysis
Identify the potential hazards associated with food production at all stages , from primary production , processing, manufacture and distribution until the point of consumption assess the likelihood of occurrence of the hazard(s) and identify the measures for their control..
Principle 2
Determine the Critical Control Points (CCPs)
Determine the points, procedures or operational steps that can be controlled to eliminate the hazards or minimize its likelihood of occurrence. A "step" means any stage in food production and or manufacture including the receipt and or production of raw materials, harvesting, transport, formulation, processing, storage etc.
Principle 3
Establish critical limits
Establish critical limits which must be met to ensure the CCP is under control. Criteria often use include measurement of temperature, time, moisture level. Ph, aw, available chlorine and sensory parameters such as visual appearance and texture.
Principle 4
Establish a system to monitor control of the CCP
Establish a system to monitor control of the CCP by scheduled tasting or observation..
Principle 5
Establish the corrective action to be taken when mentoring indicates that a particular CCP is not under control.
Principle 6
Establish procedure for verification to conform that the HACCP system is working effectively.
Principle 7
Establish documentation concerning all procedure and records appropriate to these principles and their application


---
Logic Sequence for application of HACCP principle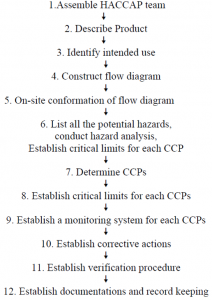 ---
---